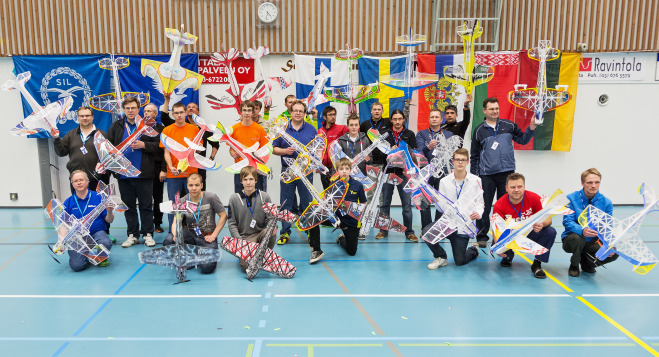 Contest
2017 F3P Open Finnish Championship will be oraganised in Iittala on 11th February 2017. The classes flown: FAI, Advanced, Sport. Aeromusicals will be flown as a show for the spectators, without a contest.
Schedule
FAI class will follow FAI rules including 3 preliminary rounds and 3 final rounds. In Advanced and Sport classes 3 rounds.
Friday 10th free practise at 19.00-23.00.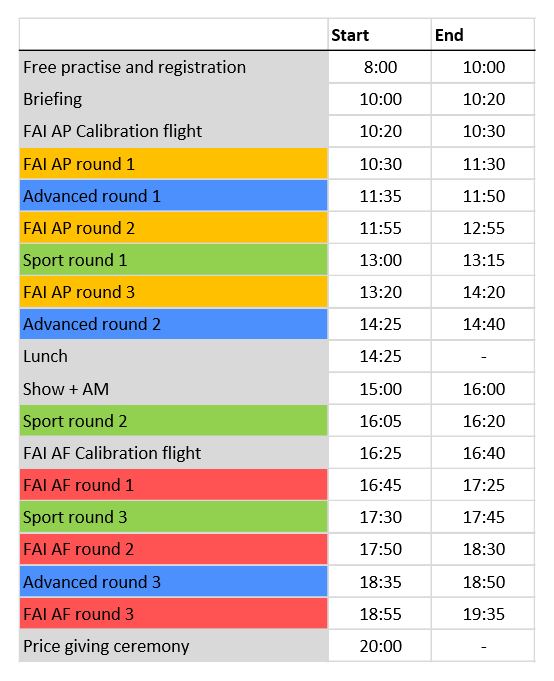 Sequences
FAI sequences are the official FAI AP-17 and AF-17. Advanced sequence is FAI AA-17 and Sport is a national sequence. Sequences can be found via the link below.
http://www.f3a.fi/en/f3a/indoor/
Participation fees
– FAI 40e
– Advanced 35e (15e for juniors below 18 years)
– Sport 30e (10e for juniors below 18 years)
Contest place
Iittala is located 120km (1,5 hour trip by car) north of Helsinki. Address: Hollaajantie 2, 14500 Iittala, Finland.
By airplane you can arrive at Helsinki airport. To Helsinki (120km from Iittala) and Turku (150km from Iittala) there are also good ship connections from Sweden, Estonia, Poland and Germany. The distance to Iittala from Vaalimaa border crossing (from Russia) is 250km.
The hall is a school gym with an area of 25m x 45m and the height of the ceiling is 10-12m. The hall is perfect for indoor flying.
Accommodation
In case of help needed for booking accommodation, please contact Janne.
Food
Lunch is available at Lasimäki restaurant (200 m from the hall) or at Shell gas station (2 km from the hall). There will be a buffet with small snacks, drinks, coffee etc in the hall on saturday.
Registered pilots (updated on 8th February 2017)
FAI
Janne Lappi
Iiro Lehto
Kimmo Kaukoranta
Alexey Lantsov (RUS)
Evgeniy Medkov (RUS)
Jarmo Heinonen
Risto Hölttä
Dmitry Starostov (RUS)
Donatas Pauzuolis (LT)
Zilvinas Lapacinskas (LT)
Felix Scander (SWE)
Gunnar Karlsson (SWE)
Advanced (F3P-B)
Erkko Saviaro
Emma Tuunala
Edvin Penart (EST)
Sport
Mikael Troberg
Kari Kumpulainen
Miro Sievänen
Aeromusical show flights
Janne Lappi
Iiro Lehto
Kimmo Kaukoranta
Donatas Pauzuolis (LT)
Judges
Esa Eirola
Erkko Saviaro
Pekka Jääskeläinen
Igor Shilov (RUS)
Ignas Matulevicius (LT)
Registrations via email: janne.lappi [email: janne.lappi #AT# saunalahti.fi ]
Please don't hesitate to contact us in case of any questions concerning the event and travelling: janne.lappi [email: janne.lappi #AT# saunalahti.fi ] / kimmo.kaukoranta [email: kimmo.kaukoranta #AT# gmail.com ]
F3A Team Finland