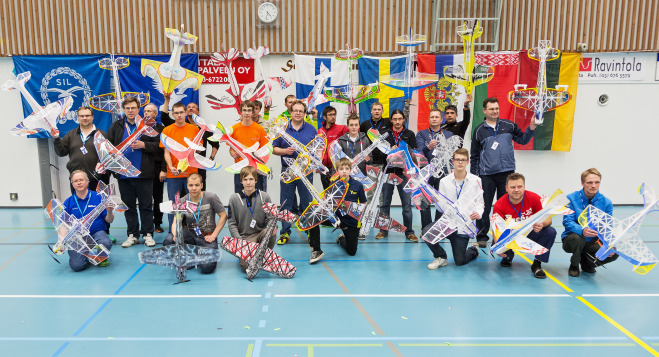 Contest
2016 F3P Open Finnish Championship will be oraganised in Iittala on 26th March 2016. The classes flown: FAI, Advanced, Sport. Aeromusicals will be flown as a show for the spectators, without a contest.
Timetable
On Friday 25th there will be a practise session at 19.00-22.30.
The event starts at 8.00 on Saturday with practice and registration. Estimated schedule: Briefing and calibration flight at 10.00 and the hall is reserved till 22.00. There will be free flying till the end in the evening if the competition is finished earlier. FAI class will follow FAI's rules including 3 or 4 preliminary rounds and 3 final rounds. In Advanced and Sport classes 3 or 4 rounds.
Sequences
FAI sequences are the official FAI AP-17 and AF-17. Advanced sequence is FAI AA-17 and Sport is a national sequence. Sequences can be found via the link below.
http://www.f3a.fi/en/f3a/indoor/
Participation fees
– FAI 40e
– Advanced 35e (15e for juniors below 18 years)
– Sport 30e (10e for juniors below 18 years)
Contest place
Iittala is located 120km (1,5 hour trip by car) north of Helsinki. Address: Hollaajantie 2, 14500 Iittala, Finland.
By airplane you can arrive at Helsinki airport. To Helsinki (120km from Iittala) and Turku (150km from Iittala) there are also good ship connections from Sweden, Estonia, Poland and Germany. The distance to Iittala from Vaalimaa border crossing (from Russia) is 250km.
The hall is a school gym with an area of 25m x 45m and the height of the ceiling is 10-12m. The hall big and perfect for indoor flying.
For walking on the floor of the hall indoor shoes are recommended. Competitors' equipment can be stored in the hall from Friday at 19:00 till Saturday at 20:00 in the locker rooms.
Accommodation
Lepaanranta cabins
http://www.hameenlinna.fi/Palvelut/LinnanInfra/Luontopalvelut-ulkoliikunta-ja-virkistys/Mokit-ja-laavut/Lepaanranta/
Owned by the city of Hämeenlinna, located 6km from the hall. Very basic accommodation, you need your own bed linen, there is only a matress on the floor etc. We have reserved two cabins for fri-sat and sat-sun. Normally 8-10 persons per cabin is suitable but the absolute limit is 13 persons. Price will be about 20-25 euro per person per night. Price will be defined precisely later when we know the number of persons. Please email janne.lappi [email: janne.lappi #AT# saunalahti.fi ] if interested in this option. Address is Hartunkärjentie 156, 14500 Hämeenlinna. The first to arrive can get the key from Saku Nyman, +358 50 412 2596.
Hotels
Hotels available in city of Hämeenlinna, located 25 km south of Iittala. http://www.booking.com/searchresults.en-gb………….
Food
On Saturday 8th it is possible to have lunch in the Lasimäki restaurant, 200 m from the hall.
There will be a buffet with small snacks, drinks, coffee etc in the hall on saturday. For friday evening and late on saturday, it is recommended to reserve some own snacks. Close to the hall there is also a gas station that offers food at night as well.
Registered pilots (updated on 28th February 2015)
FAI
Janne Lappi
Iiro Lehto
Kimmo Kaukoranta
Jarmo Heinonen
Igor Shilov (RUS)
Eugene Medkov (RUS)
Alexey Lantsov (RUS)
Advanced (F3P-B)
Risto Hölttä
Anssi Aunola
Jarmo Heinonen
Emma Tuunala
Erkko Saviaro
Sport
Emma Tuunala
Aeromusical show flights
Janne Lappi
Iiro Lehto
Kimmo Kaukoranta
Judges
Esa Eirola
Raimo Sällinen
Pekka Jääskeläinen
Registrations via email: janne.lappi [email: janne.lappi #AT# saunalahti.fi ]
Please don't hesitate to contact us in case of any questions concerning the event and travelling: janne.lappi [email: janne.lappi #AT# saunalahti.fi ] / kimmo.kaukoranta [email: kimmo.kaukoranta #AT# gmail.com ]
F3A Team Finland